Asse Firestation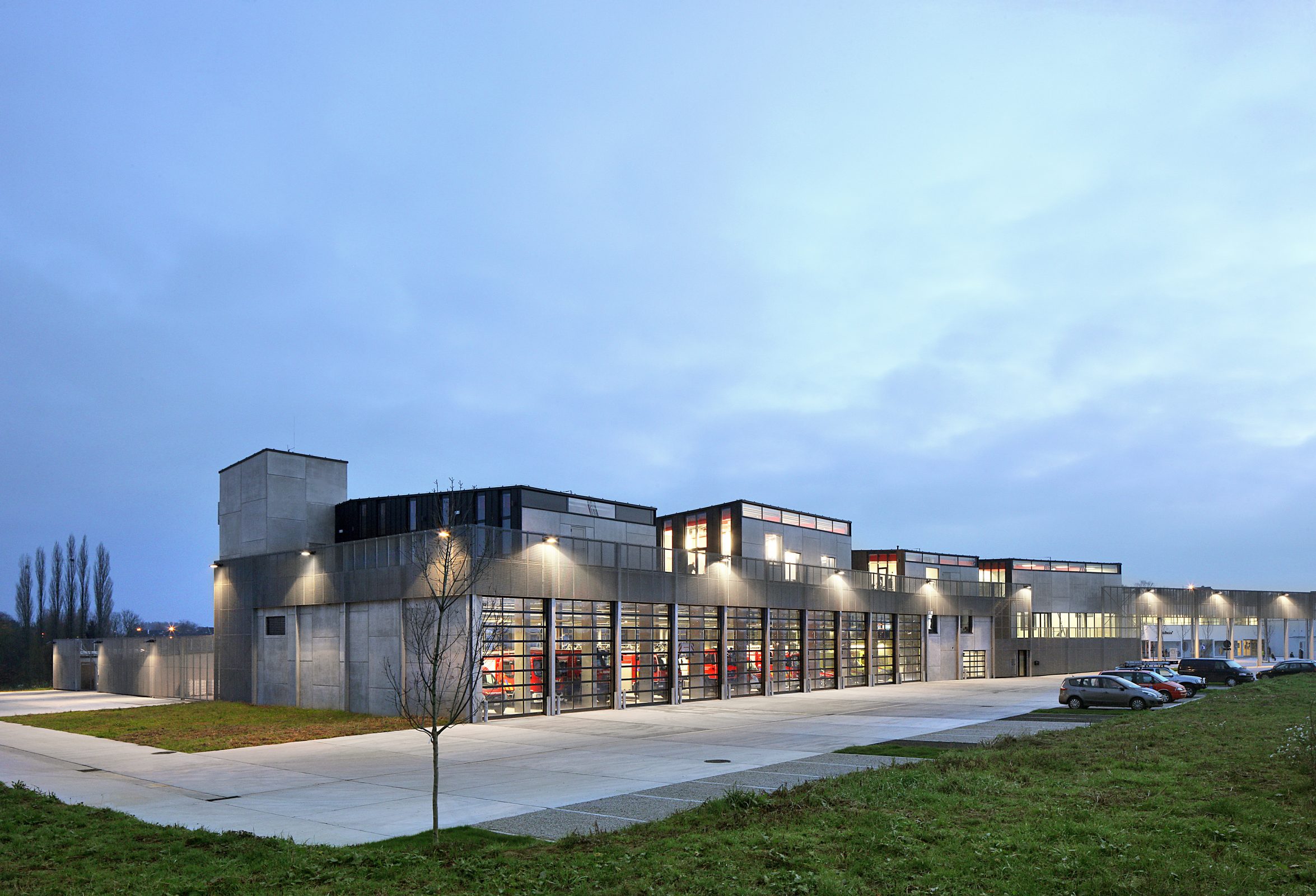 © Filip Dujardin & Franki Construct
The Asse Fire station was a winning competition entry for a regional fire station and a youth center. The site was formerly used for an asphalt production industry located on the outer edge of the Town Center. Beyond the ring road, the landscape is open and rural. A "land-form" concept demarcates the project on one edge of a much larger site and thus preserves existing landscape features that allow for future expansion.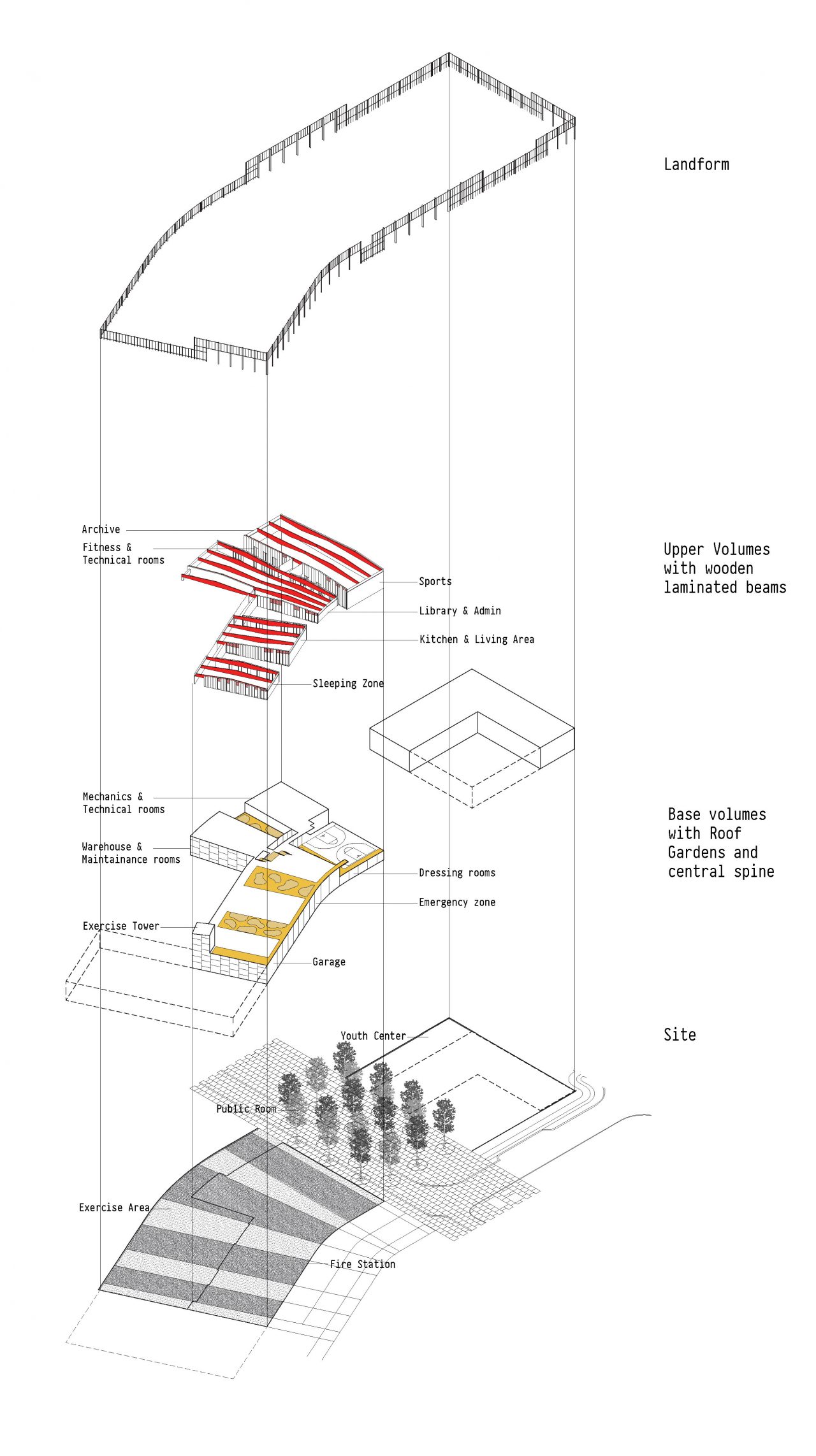 Program distribution diagram
The Fire station has a sober, functional, and banal appearance, like that of commercial box typologies. Building voids in and around the programmatic spaces revealed the building's economical and repetitive construction logic. However, with the precise material joints and alignments, a subtle bend in the overall form, and an atypical angular roof, the notion that the building is conventional is disrupted.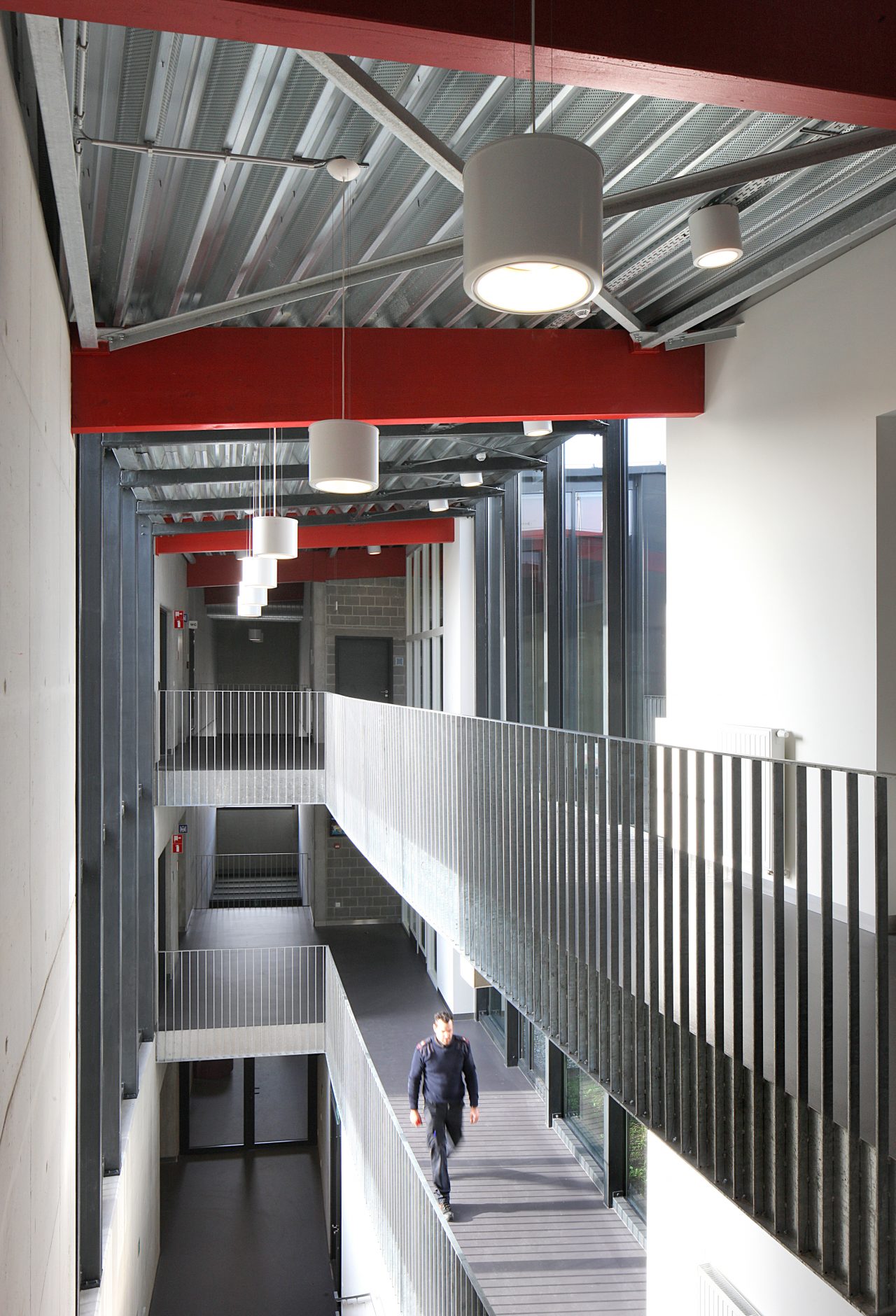 © Filip Dujardin & Franki Construct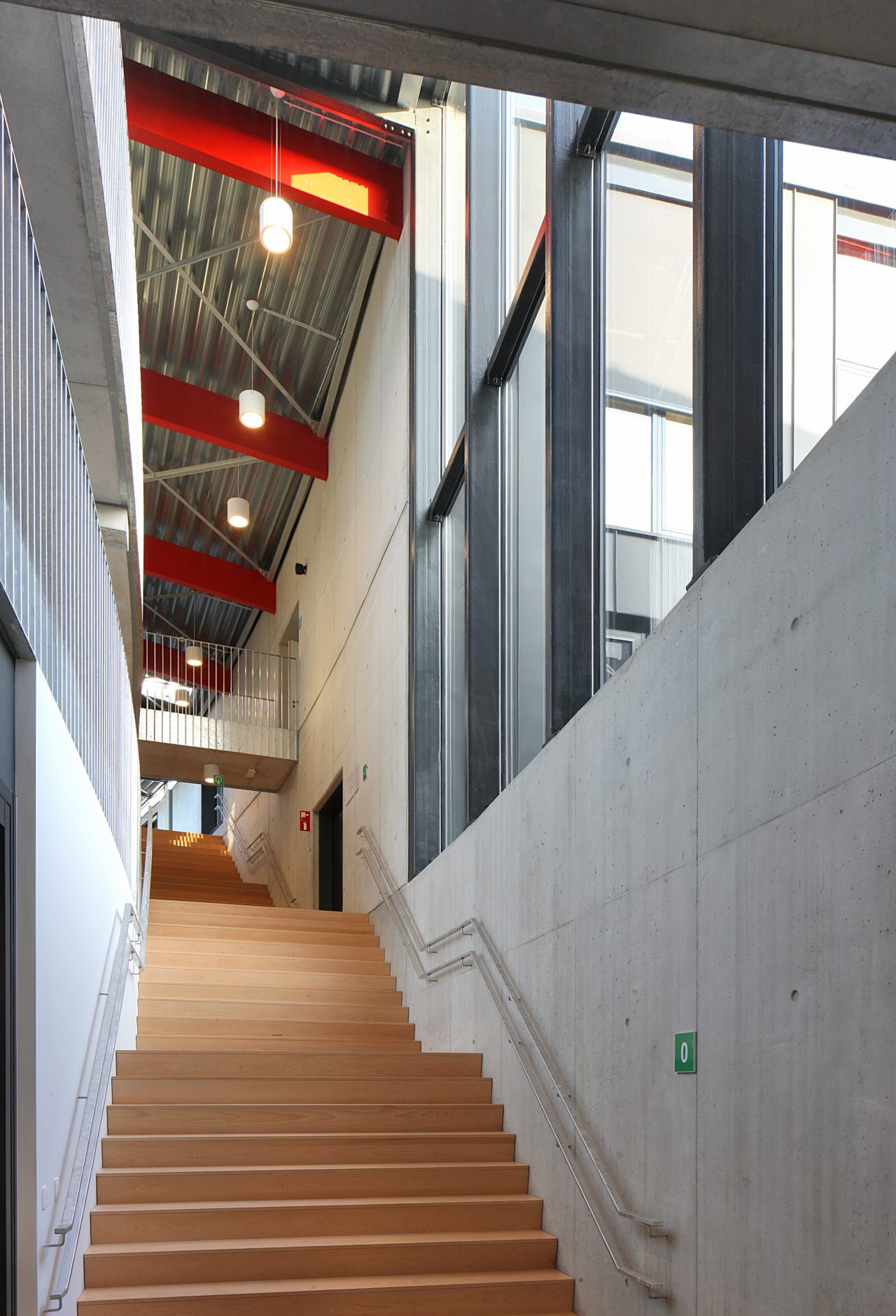 © Filip Dujardin & Franki Construct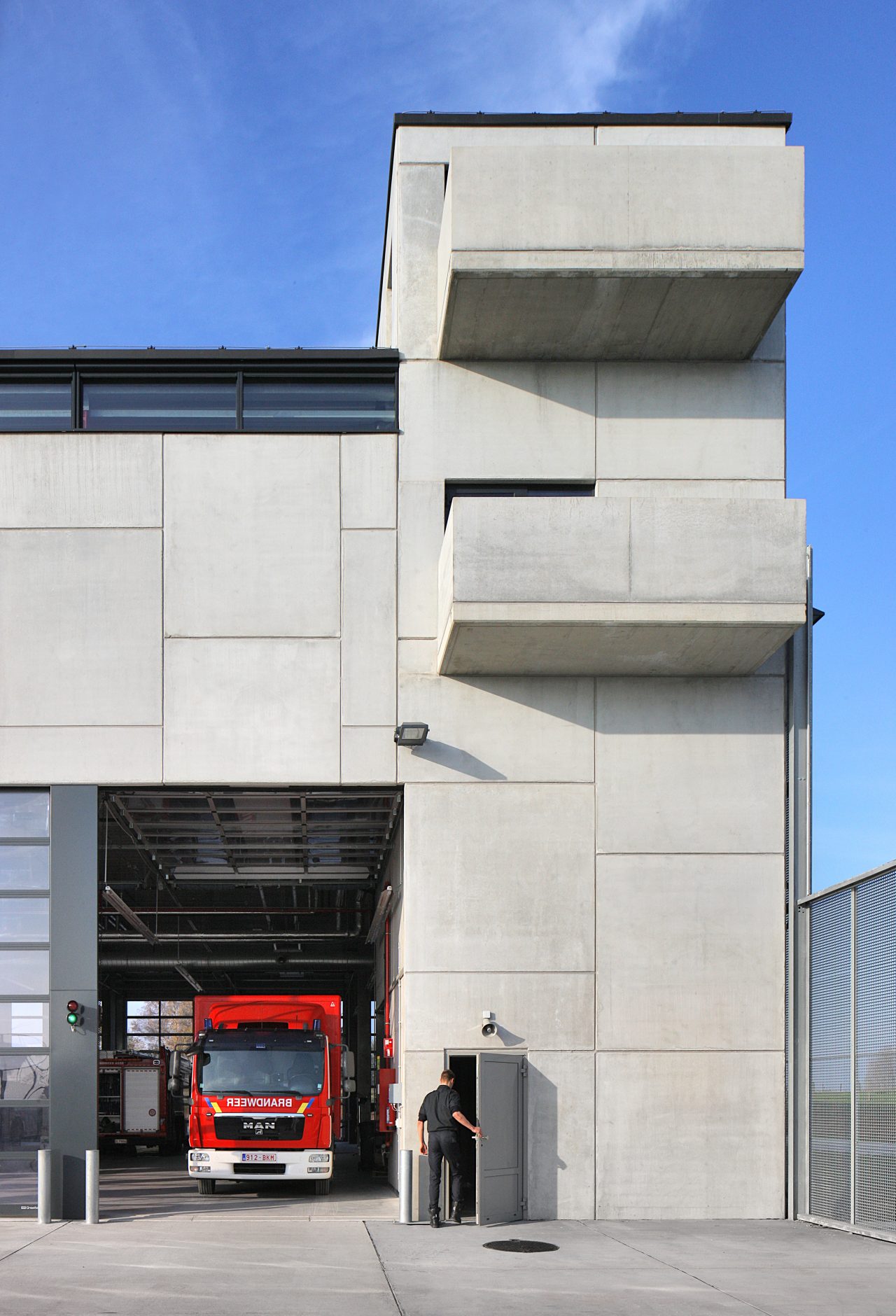 © Filip Dujardin & Franki Construct
On the ground floor, logistics and functional requirements are optimized and logically organized. Within the building, a circulation corridor cuts through the programmatic spaces, extends vertically via a long continuous stairway, and follows the curve of the building. The upper levels, which house the private quarters and offices of the firemen, are allotted into four distinct volumes with each serving a different function (Sports, Office, Lounge, Sleeping), and alternating roof slope with red painted laminated beams. The deeper you enter the building the more private the functions are. The four roof volumes are divided by accessible roof garden terraces.
Mission ORG
Architecture design, Construction
Team
Alexander D'Hooghe, Natalie Seys, Luk Peeters, Sanne Peeters, Yen Van Der Voort, John Pugh, Andrew Corrigan, Nida Rehman
Collaborators
SWECO, C20 Architects, Venac, Studiebureau HDP