A Model African Agribusiness City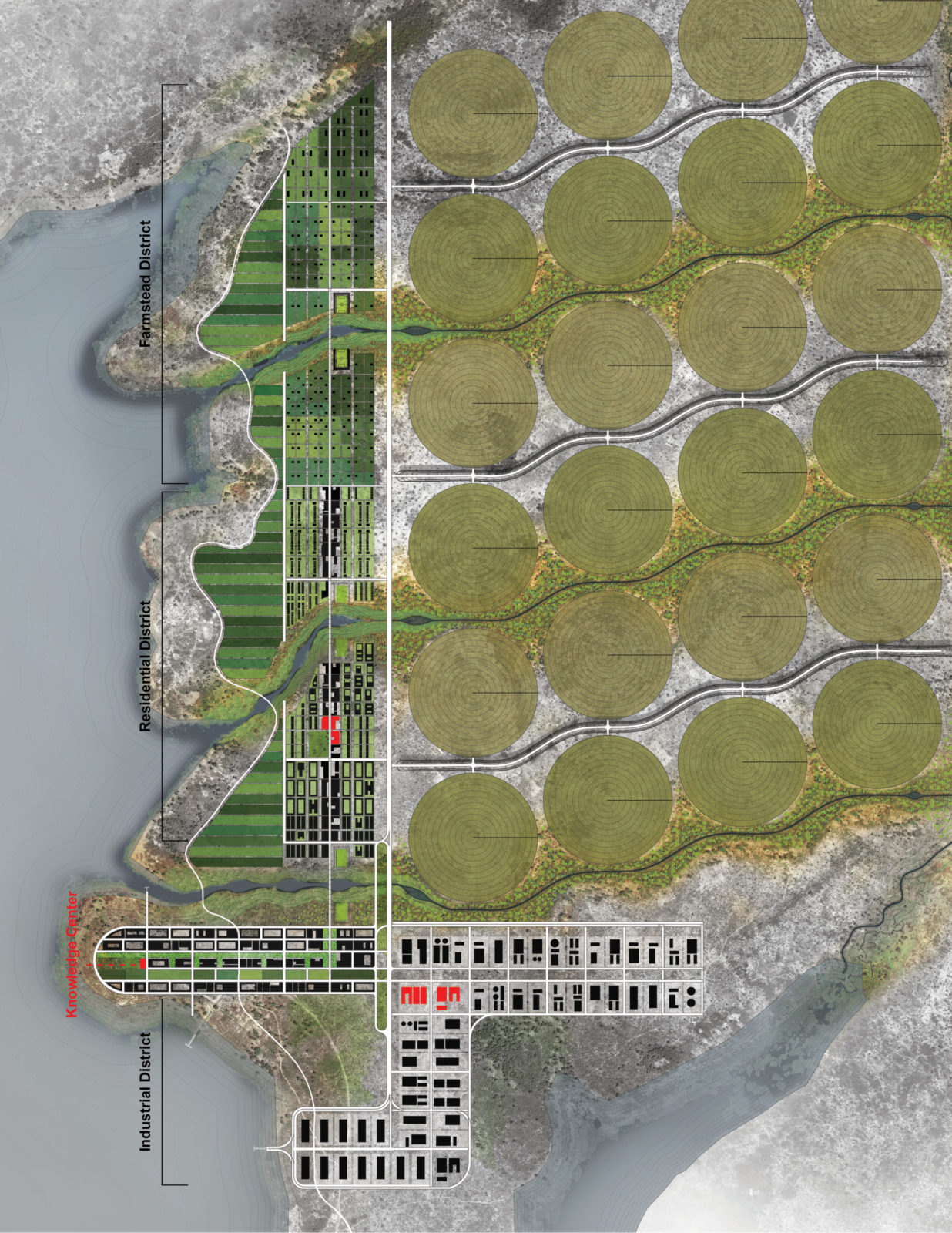 The Model African Agribusiness City is a social vision and a master plan for a 10,000 hectares (24,710 acres) site on the Afram Plains near Lake Volta, Ghana, envisioned in collaboration with Alan Berger (PREX). The vision is to train, support, and bring to market sustainable products from small local farmers and industrial agriculture operations. The design challenge was to create a vertically integrated industrial agriculture operation, along with the necessary industrial, residential, and infrastructural components that would be required for a project resulting in an urban settlement of 30,000 people over 15 years. Overall, this project represents a new model for large-scale industrial agriculture in Africa, whose principles and components can be adapted for sites elsewhere.
The overall design scheme incorporates industrial (1) and agricultural (2) development zones, residential (3) areas, and the Knowledge Center for Agribusiness (4), as the impetus for sustainable community development and a successful business model. These four main programmatic requirements, or "districts", define an overarching territorial, landscape, and settlement strategy, which became the organizing principle establishing connections across the site.
A logistics road connects farm development to the industrial district and port transportation. A coastal trail connects existing villages along the coast, cutting through both residential and industrial districts. An intermediate commercial road connects the shared neighborhood facilities in the residential district to the knowledge center campus serving as the main community and commercial artery.
Key facilities anchor these districts, each serving as the pilot project for the area thereby triggering future growth and expansion. The first knowledge center building constitutes the starting point of the overall vision and simultaneously sets the overall width of the knowledge center district blocks and adjacent testbeds (60m., 196ft.). In the residential area, a large-scale open-air market is a key element for locally produced goods and imported commercial services. In the industrial district, the plan suggests a location for the first key processing and manufacturing facilities, initially for agricultural operations, closest to the first farms and proposed circulation systems, and later for a wide range of industrial process, all connected to agricultural operations (food, crafts, energy, etc.).
Finally, our model shows how the International Finance Corporation's (IFC) Sustainability Performance Standards can be met through thoughtful design. The IFC's standards are very general guidelines, offering little guidance for how these standards can be met with physical design. For this reason, this conceptual masterplan can be a useful model for future agribusiness city projects seeking IFC approval.
Location
Afram Plains, Ghana
Team
Alexander D'Hooghe, Larisa Ovalles, Kobi Ruthenberg
Collaborators
Alan Berger (MIT Urban Planning)
Program
Commercial, Public Space, Residential, Infrastructure, Landscape