KNOOP ZUID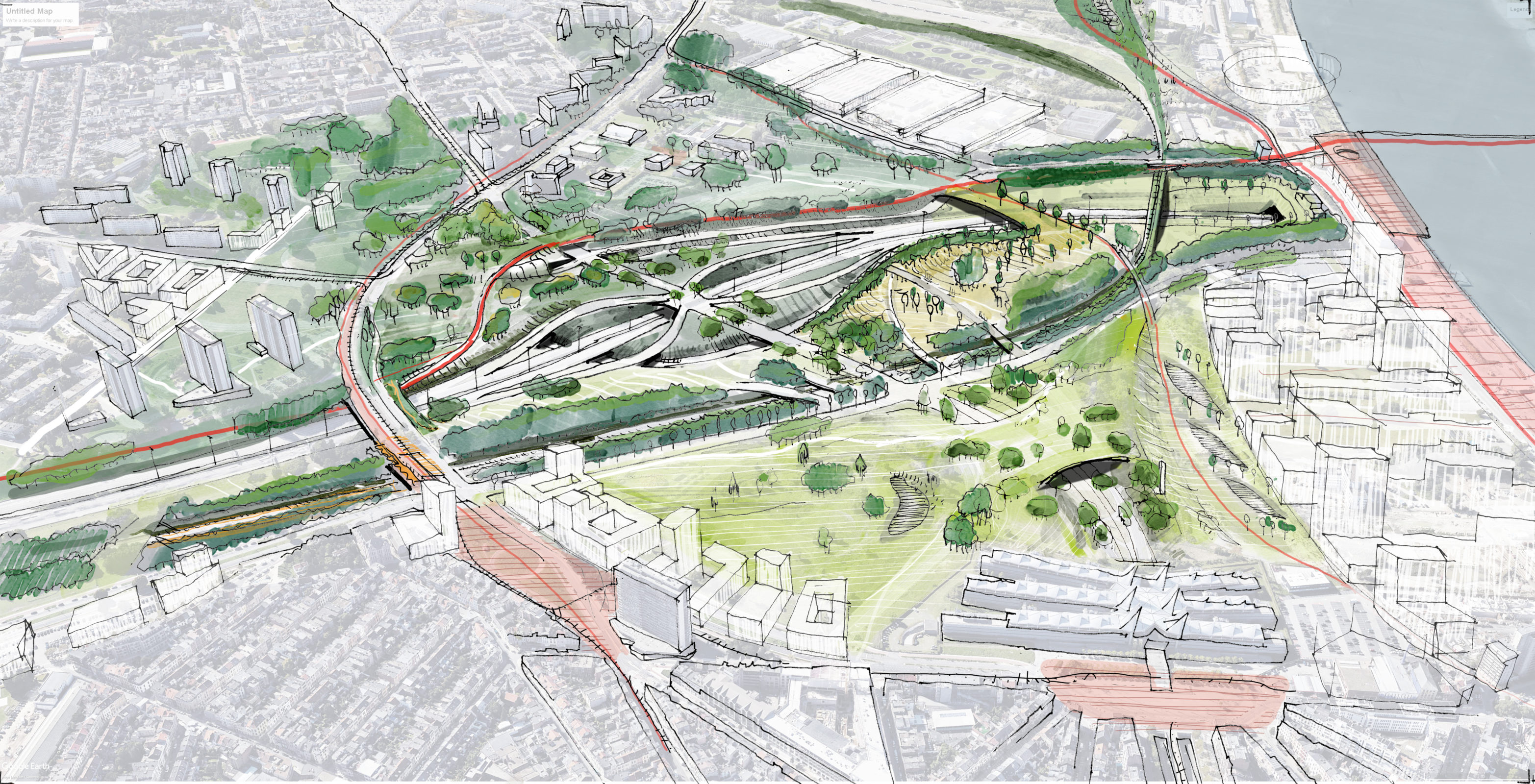 Perspective view of location
This project focused on the transportation axis of a Knoop Zuid in south Antwerp to create a compact intersection with entries to the R1 but also the A112. Through the process of research-based design and iterative scrum sessions, the Ringpark South project realized an efficient infrastructure design and real improvements in the living environment.
The participants of the scrum evaluated the progress of the design at regular intervals (3 weekly).
This resulted in one synthesis variant of the Knoop axis with a complete twisting of the intersections of Emiel Vloorstraat and Kolonel Silvertopstraat so that the original connection is designated to serve public transport and an interwoven design forms a new connection for car traffic.
The existing roads for cars are moved closer to the infrastructure of the motorway. A central road (designed as a park boulevard) creates a better connection from extramuros to Intramuros while bundling the new entries and exits from the motorways. The intersection will be organized in its most compact way: Single-point urban interchange.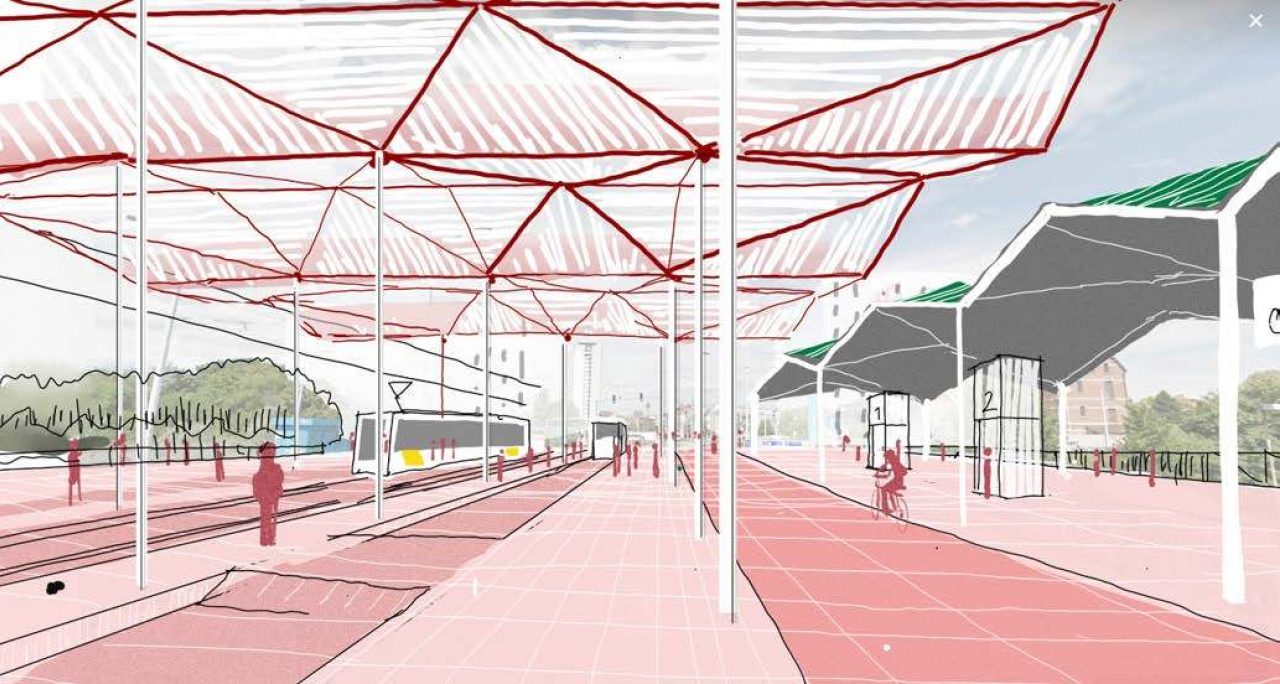 The K. Silvertopstraat as a comfortable transition between different modes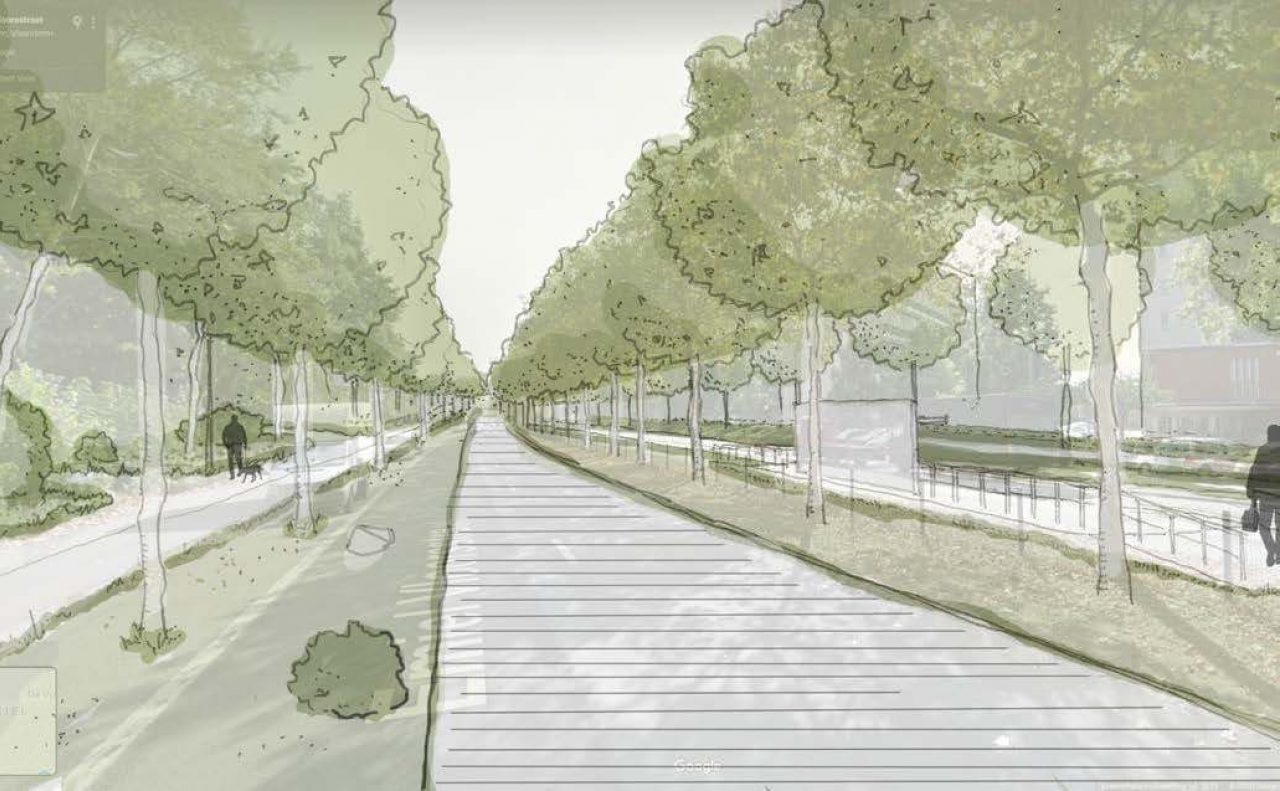 A local road on the out-of-town road profile
By creating a central road for cars towards the center, the existing road (Silvertopstraat) will become a public transport axis, which can facilitate the ambitious amount of public transport and its Multimodal Hub on the bridge at the existing train station. (as asked in the Routeplan 2030). The fragments of green around the Knoop can extend in a landscape towards the new infrastructure and from in future a greater park landscape, connecting the different neighborhoods of the city. The ring bike path is used as a tool to create a border between parks and infrastructure and create a landscape continuity with little cappings.
The participating organizations were:
AG Vespa, AWV, Blue Gate, De Lijn, Dep. Omg., Pmv, Ring van A, Ringland, Stad Antwerpen, StRaten Generaal, Tractebel, Vervoerregio Antwerpen
Program
Public Space, Transportation, Infrastructure, Landscape
Collaborators
Common Ground, TRACTEBEL – Engie
Mission ORG
Feasibility Study
Team
Marcel Smets, Heinrich Altenmueller, Louise Blanquaert, Ricardo Avella, Elena Kasselouri
Related Updates
KNOOP ZUID: DESIGNED RESEARCH FOR ALTERNATIVES TO THE COMPLEX CONNECTION
10.2019
Book