Tervuren - Royal Vegetable Garden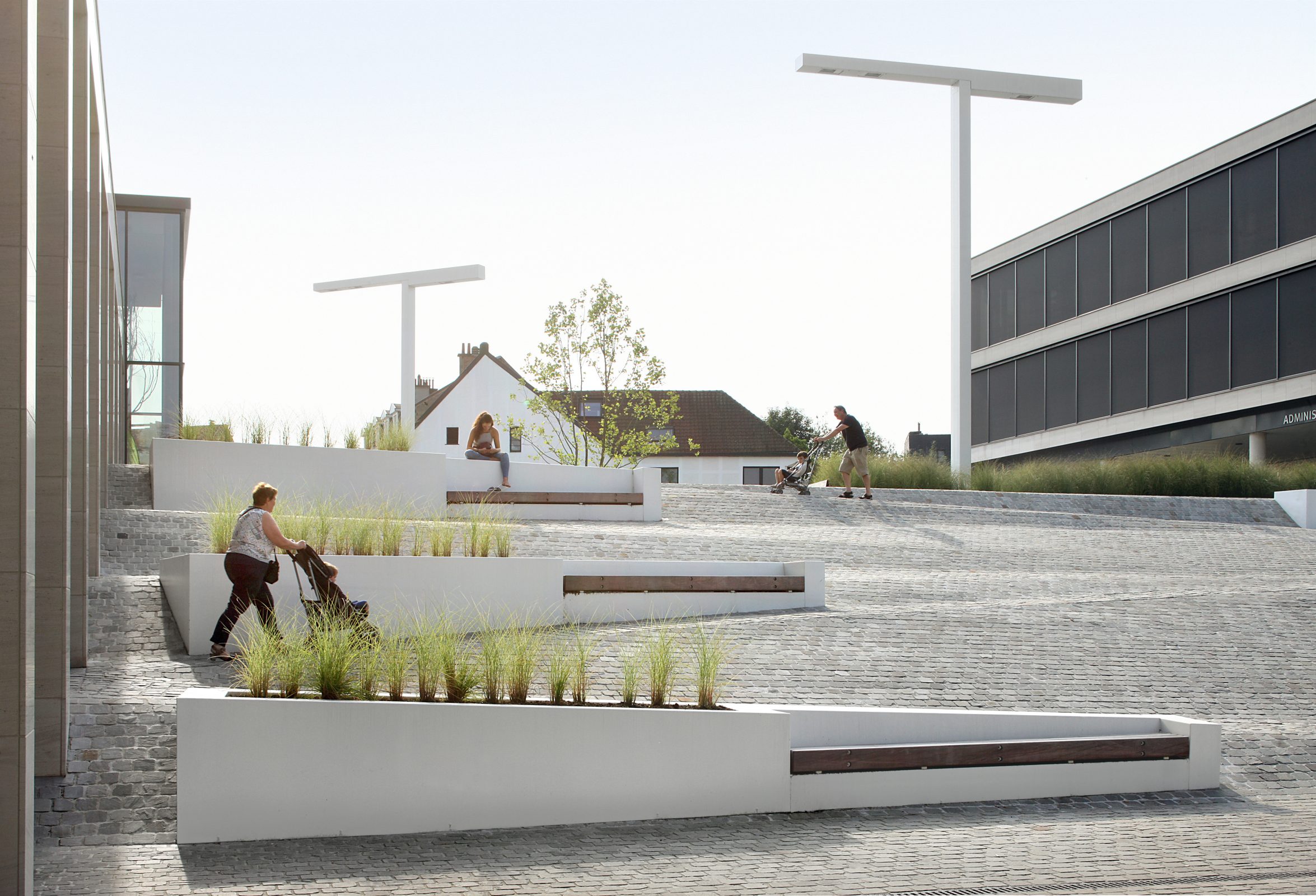 The Tervuren Landscape infrastructure project consists of all outdoor connecting spaces between newly planned buildings: a park, a plaza, and surrounding infrastructures. The design challenge was to organize and integrate the area between the 19th century Royal Park of Tervuren, and the Historic Village (pop. 20,636) that grew around its edge. The existing spaces between these two nodes, the project site, are parking lots that replaced botanical gardens dating back to 1770.

The solution is a contemporary interpretation of a French garden. T-shaped walls, of different heights with numerous thresholds, create a series of outdoor "rooms" that order programmatic spaces for recreation (hard courts and lawns), bicycle parking, rest and reflection areas, and paths. The new intervention negotiates a 12 ft. (3.65 m.) elevation change between the Royal Park and the Historic Village.
The design of the path between the Royal Park and the Historic Village was informed largely by the elevation change and the need to connect new buildings across the plaza. The elevation change is accomplished without disrupting sightlines between the two nodes and allowing continuous flows for pedestrians, bikes, and accessibility slopes. A long plaza has a ramp, a "stramp" (a combination of stairs and a ramp), and an inventive slope design, with returns and platforms activating the topography. The undulating plaza is finished with square cobblestones. Place marking follies were installed to guide circulation, provide artificial lighting with places to congregate, accommodate drainage and plant-life, and incorporate service stations for plaza inhabitants.
Location
Tervuren, Belgium
Team
Alexander D'Hooghe, Natalie Seys, Luk Peeters, Steve Swiggers, Sanne Peeters, Wim François, Larisa Ovalles, Joseph O'Connor, Katrien Theunis, Theo Issaias, Felix Lauffer, John Pugh, Andrew Corrigan, Matt Binder, Hendrik Bloem, Ellen Raes, Griet Kuppens, Evelyne Van Houtte
Mission ORG
Urban design, Construction
Image / Photo credits
Photographer Filip Dujardin
Program
Public Space, Infrastructure, Landscape