Gryson Mixed Use Development
On an old industrial site of 17.600m², a new development of small and medium enterprise agro-park for businesses, social housing, and student housing is underway. The mix of functions will create a dynamic, enriching environment for a variety of users, and optimizing urban space. The hangars, offices, and houses that were located on the site before, were demolished to make way for 72 social apartments, 298 student apartments, 18 workshops for agribusinesses and food companies (5000m²), a community space for social services serving young adults and 94 parking spaces. The design divides the site visually into two parts separated by a qualitative public space- a traffic-free residential area where residents can meet.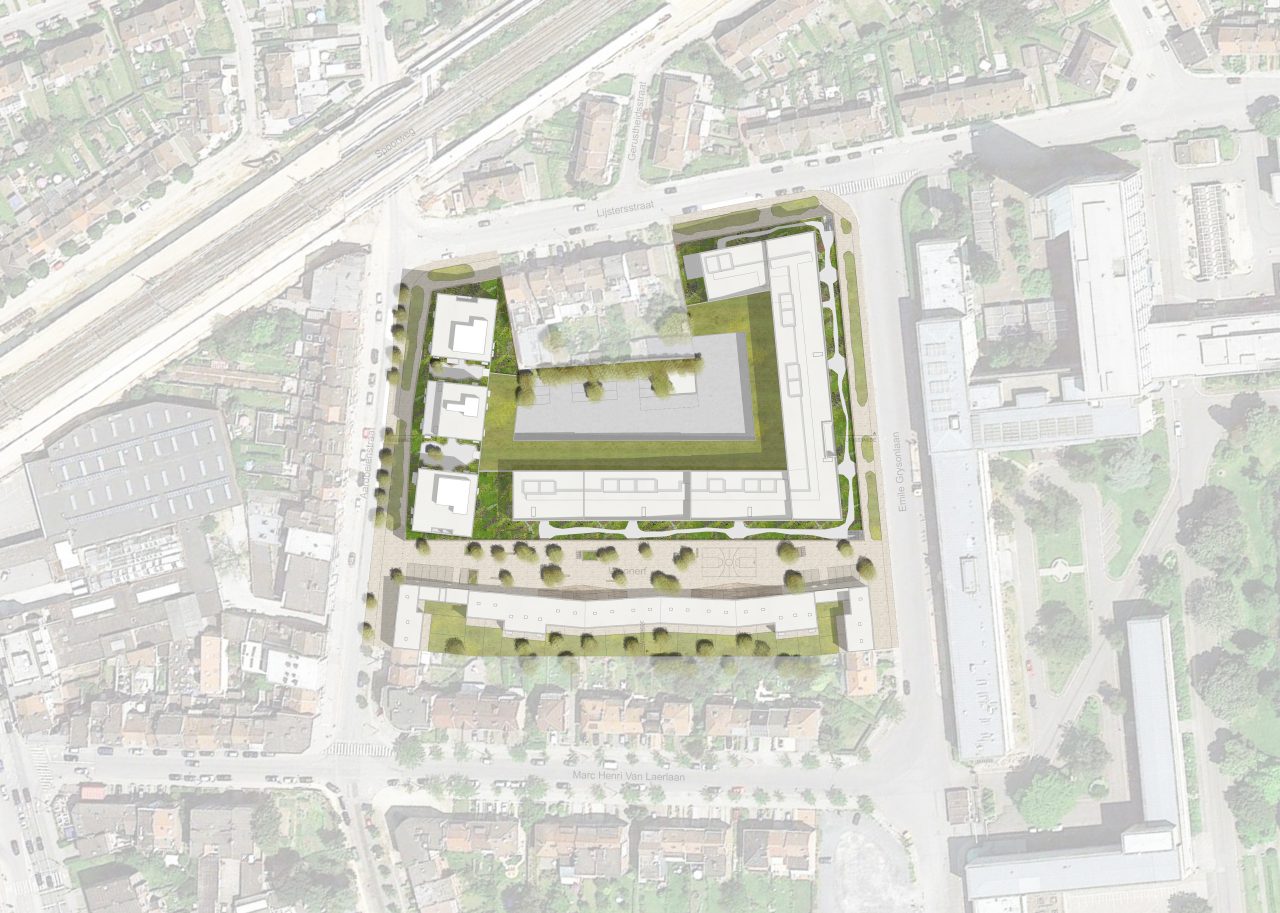 The new social housing blends in well with the existing housing in the neighborhood. Each workshop opens towards the public square and is reachable for freight traffic from the inner courtyard, which is covered with a green, acoustic canopy to reduce the noise disturbance for the surrounding homes. The workshops are modular and adaptable to different types of activities. Social housing and student homes will be located above the ground-floor workshops. Each apartment opens onto a pleasant roof garden that promotes interaction between residents. All apartments have a private terrace or balcony, the homes along the hamlet each have a private garden. For the students, communal living, study, and relaxation rooms are spread over the entire building.
Location
Anderlecht, Belgium
Program
Commercial, Public Space, Education, Residential
Collaborators
VK Engineering, Binst Architects, Van Roey
Mission ORG
Architecture design, Construction
Team
Alexander D'Hooghe, Luk Peeters, Ysaline De Lobkowicz, Griet Kuppens, Yoon Young Cho, Ellen Raes, Aaron Weller, Pierre Dugardyn
Clients
Citydev.brussels, SLRB (Social Housing Company of the Brussels Region)