Mobility Systems
Our research resolves complicated transportation issues for the urban and rural fabric, with special attention paid to the intermediary zones of the city, between urban densities, which typically lack services. ORG has developed a mobility revolution with Lanes, Networks, and Multimodal Hubs that integrate micro-mobility and micro-transit services in intermediary zones along the urban transect.
Emerging technologies in Mobility as a Service or Demand Responsive Transit have expanded transportation potential. Our job is to design the space it needs to succeed. With minimal investment and intervention, we can make a huge impact by redesigning existing infrastructure.
Upgraded transportation infrastructure can be designed to work with new systems. Design for these new systems can be realized and implemented through coalition building to gain stakeholder support, for an enticing, efficient, safe and realizable project.
MOBILITY BEHIND THE SCENES - CURRENT ISSUES
Today's traffic congestion is caused by an overreliance on single-occupant car dependency to cross the urban/suburban divide.
How can we bridge this transportation divide and add strategic interventions for poly-centrality and connectivity?
OUR ANSWER - SEAMLESS DECENTRALIZED MOBILITY
SEAMLESS DECENTRALIZED MOBILITY - MOBILITY AS A SERVICE (MaaS)
Combining transportation services from public and private transportation providers through a unified gateway that creates and manages the trip, allowing users to plan their trip, locate a nearby stop or dock, book a request for pick-up and pay for it with a single account.
SEAMLESS DECENTRALIZED MOBILITY - LANES
Multimodal transportation requires new infrastructures integrated into existing car-centric road systems. Micro-transit and micro-mobility routes provide dedicated lanes that are mostly uninterrupted, and prioritize micro-modal transport, creating a safe, enjoyable and efficient commute. Historically car-centric roads have no space to effectively include alternative modes of transportation. As we move away from car-centric behavior, it becomes necessary to rethink and redesign our roadways. Reconfiguring new roadways with walkways, dedicated bike lanes, micro-mobility highways, and commuter-focused public space is surprising light-impact and low-cost when compared to traditional transportation infrastructure works.
How do we adjust an ailing transportation system using what we can of the existing infrastructural resources?
SEAMLESS DECENTRALIZED MOBILITY - NETWORKS
Networks are designed to integrate Mobility as a Service (MaaS) and develop multimodal transportation into existing and historically car-centric transport and land-use systems. Site-specific research establishes guidelines for connecting the particular mobility modes of any given area. This provides for the densities of each mode, as well as links between modes, size of speed and buffer zones, spatial footprints, and the strategy for embedding infrastructure into the landscape.
Multimodal Lanes, Public Space, and Multimodal Hubs must be thought of holistically. Systemically. While, historically, roadways or train tracks have provided possible routes to connect locations, new mobility networks need to perform at a higher level. Networks integrate transportation infrastructure and provide adaptive, specific designs to provide the needed services in transitioning environments. Networks must be with light impact, easily integrated, low cost, and adaptive to time and user flows.
How can a network be ready to host a series of unpredictable futures?
The future of urban mobility is decentralized. The future mobility requirement of the cities could be met using a more decentralized system and achieving last-mile connectivity, incorporating micro-transit and micro-mobility and existing mass transit system. A decentralized system can be used to fill in the gaps of the present mobility network and it needs to be integrated spatially in a city structure in order to be not just a retrofitted solution but an inherent characteristic.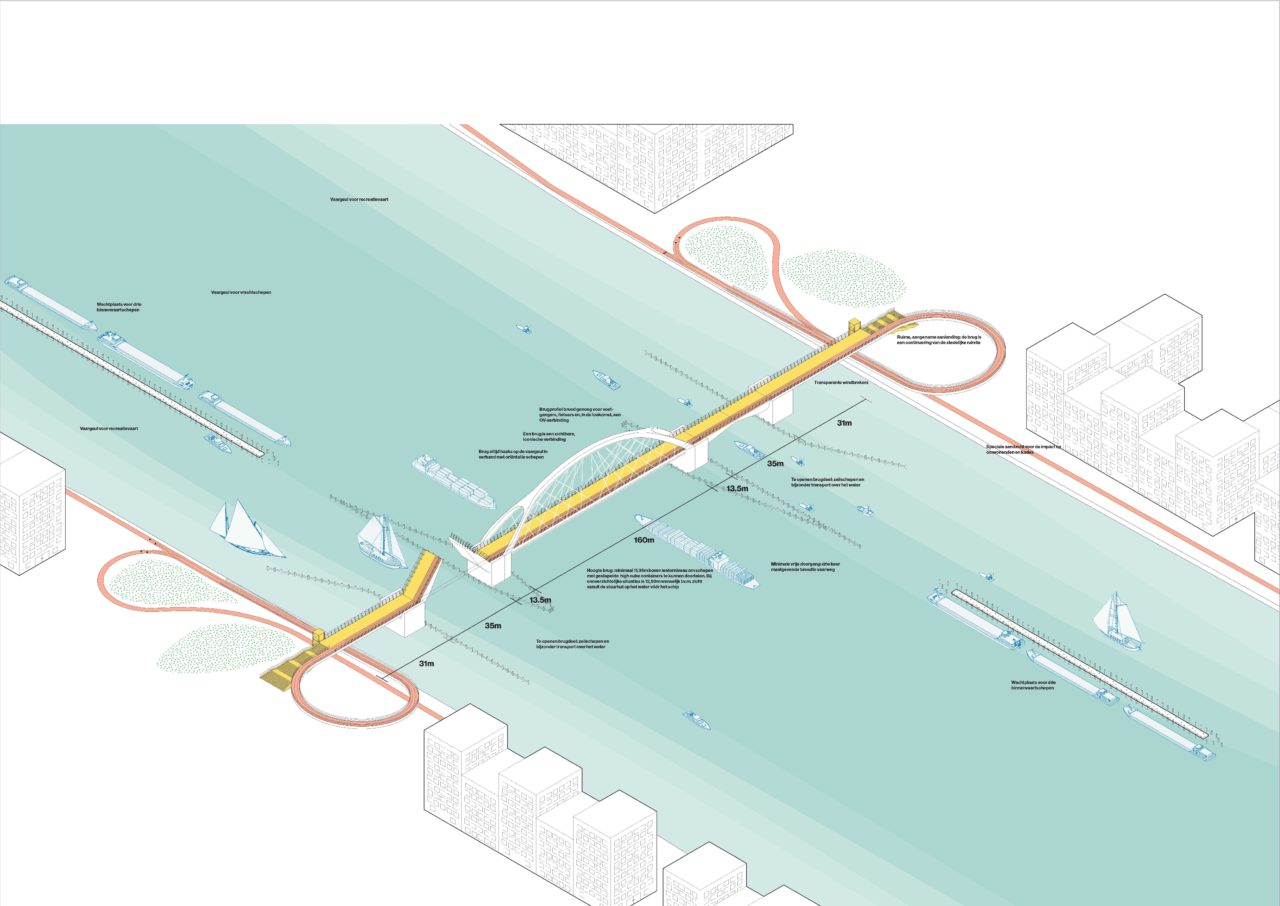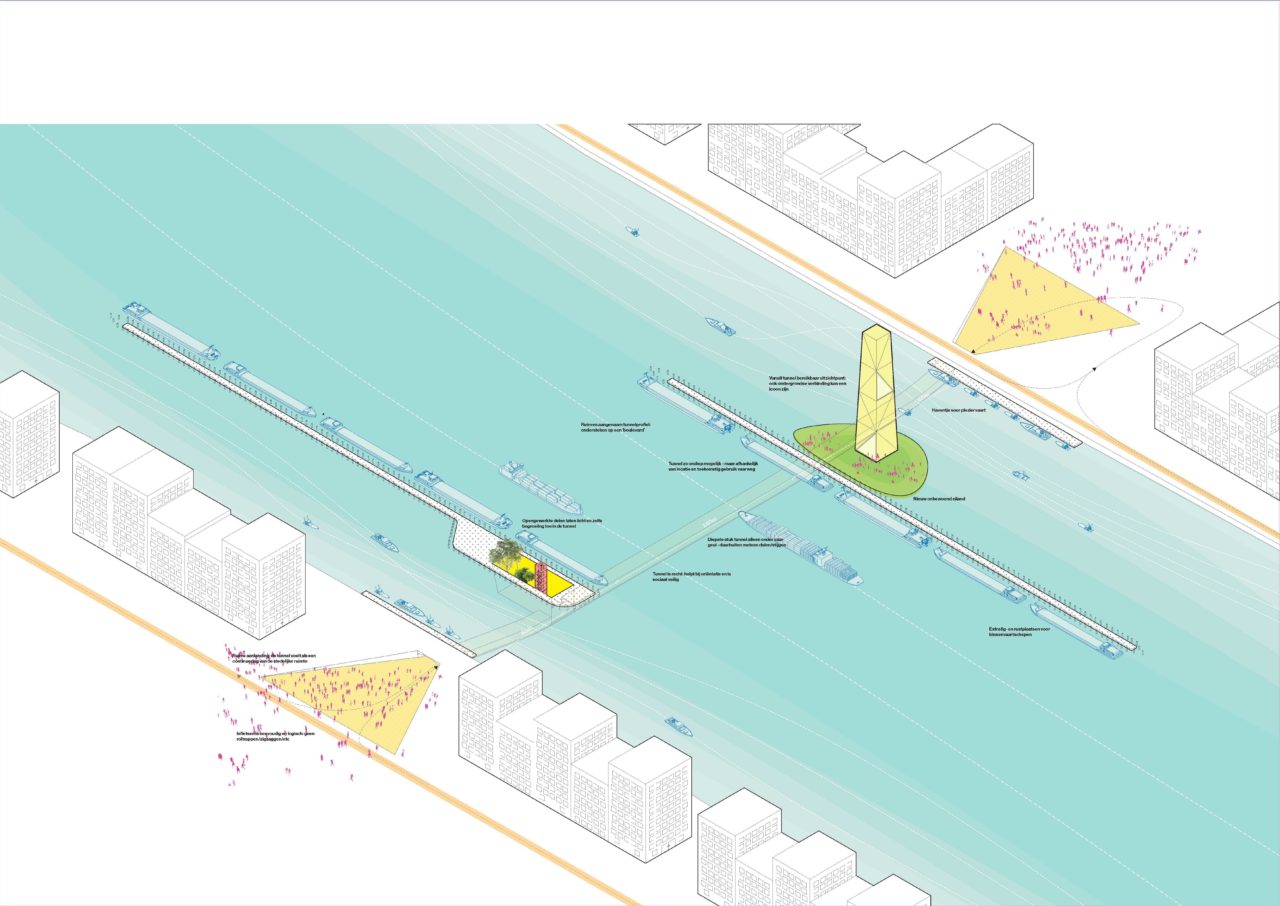 Proposed Hubs & Mobility Lanes in Brussels
SEAMLESS DECENTRALIZED MOBILITY - MULTI-MODAL HUBS
A multi-modal hub exists simultaneously on both the urban and architectural scales. They are at once a place and a connecting infrastructure for the city. They are multifaceted structures that bring people access to multi-modal transportation with pick-up and drop-off points as well as to service amenities. New and augmented multi-modal stations can be transformed into hubs through careful integration of modal transitions and qualitative commuter placemaking.
Hubs systematically change the capacities for micro-transit and micro-mobility by serving as concentrated connection, arrival, and departure points that allow for a change between transport services.
How can Hubs synthesize multiple mobility services in space and time?
A TRANSPORTATION REVOLUTION IS UNDERWAY IN THE MOBILITY LANDSCAPE

Decentralized Seamless Mobility offers an integrated solution at a fraction of the cost of traditional transportation planning and construction. This is a viable, affordable and reliable way to remove transportation congestion and car reliance.
Related Updates
Unlocking the mobility grid
11.2021
Book